I went to Australia primarily to see my daughter and meet my new son-in-law. I also wanted to see some of the unique wildlife especially koala, platypus, penguin, wallaby, kangaroo, whale and whatever birds happened to fly in front of me in the wild. My new son-in-law and several others said most of my wish list was doable but the platypus and koala in the wild, well highly unlikely. In fact most native Australians had not seen these elusive critters in the wild. Of course my reply – I serve the mighty God, and if He wants me to see a platypus in the wild there could be a platypus parade down main street 😉
I did a little research and found an area that claimed to have the highest density of platypus in Australia. I planned a week-long wander and added this spot to my itinerary. Day 4 of my wander I arrived in: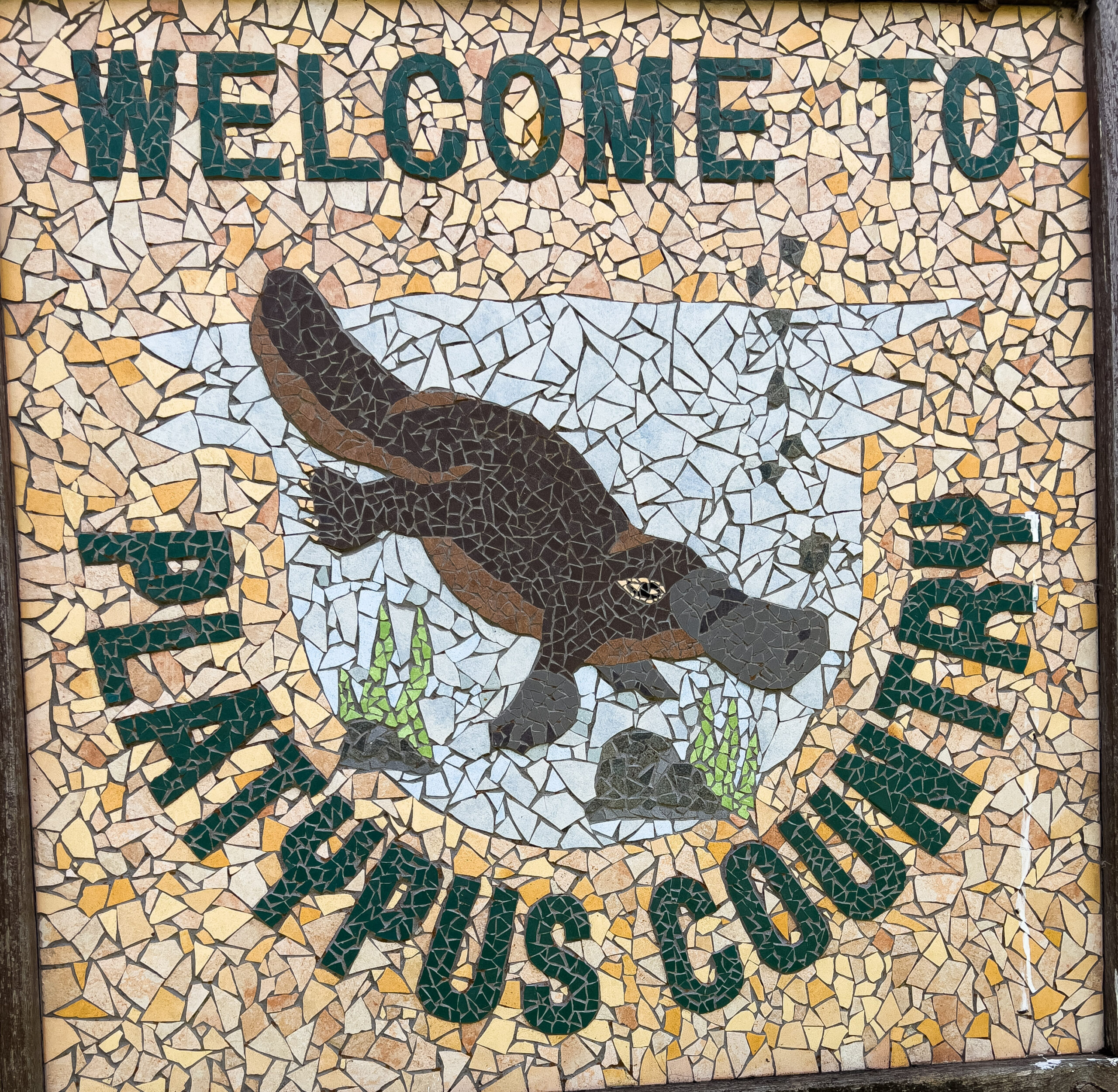 The First Platypus
Apparently early morning and late evening are the best times to spot the elusive creatures. Since I landed in Bombala (a very small town in New South Wales) at 9:30 in the morning, I figured I missed my morning opportunity. So I decided to wait for the visitor center to open to hopefully get some platypus spotting tips. Across the road from the visitor center was a park with a path along the Bombala River. With nothing better to do, I wandered down to the park to walk along the river.
After a few minutes I noticed something swimming in the river. Rather incredulous that it could be a platypus, I grabbed my binoculars and camera to get a better look. I shouldn't say unbelievably because I serve the mighty God, but rather unbelievably there was a platypus. As I walked along the river the platypus would dive and resurface chewing some delicious crustacean. I walked about a kilometer up and back down river strolling with this platypus! God is soooo good! I was now at a loss as I had set aside 2 days to find a platypus and there he was 5 minutes after I arrived! Now what should I do in platypus country?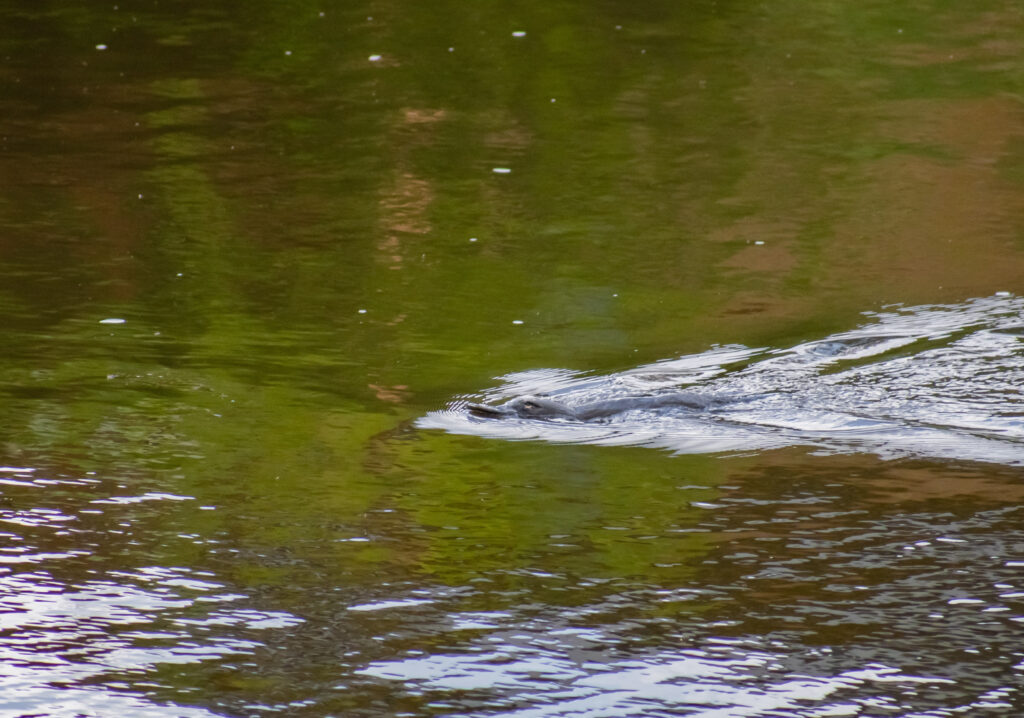 I will admit I did not get great photos because there was about 100 feet of thigh-high grass between me and the river. Australia has a lot of snakes and biting spiders that are rather poisonous. I was not adventurous enough to walk through the tall grass. After I lost view of the platypus, I went to the visitor center. The gal was very helpful and they had platypus earrings (my souvenir of choice). She gave me directions to the platypus reserve and some other sights in the area.
The Platypus Reserve
By early afternoon after setting up camp, I made my way to the platypus reserve, a lovely quiet spot on the river with some picnic tables, a toilet and a viewing platform. After about 15 minutes a platypus surfaced and spent some time feeding in the area. A second platypus also appeared! So very blessed. A couple also joined me at the viewing platform. They shared that they often travel through the area to attend livestock events (sounded like Australian rodeos) and stop at this spot to watch the platypus. They have seen as many as 4 platypus at a time.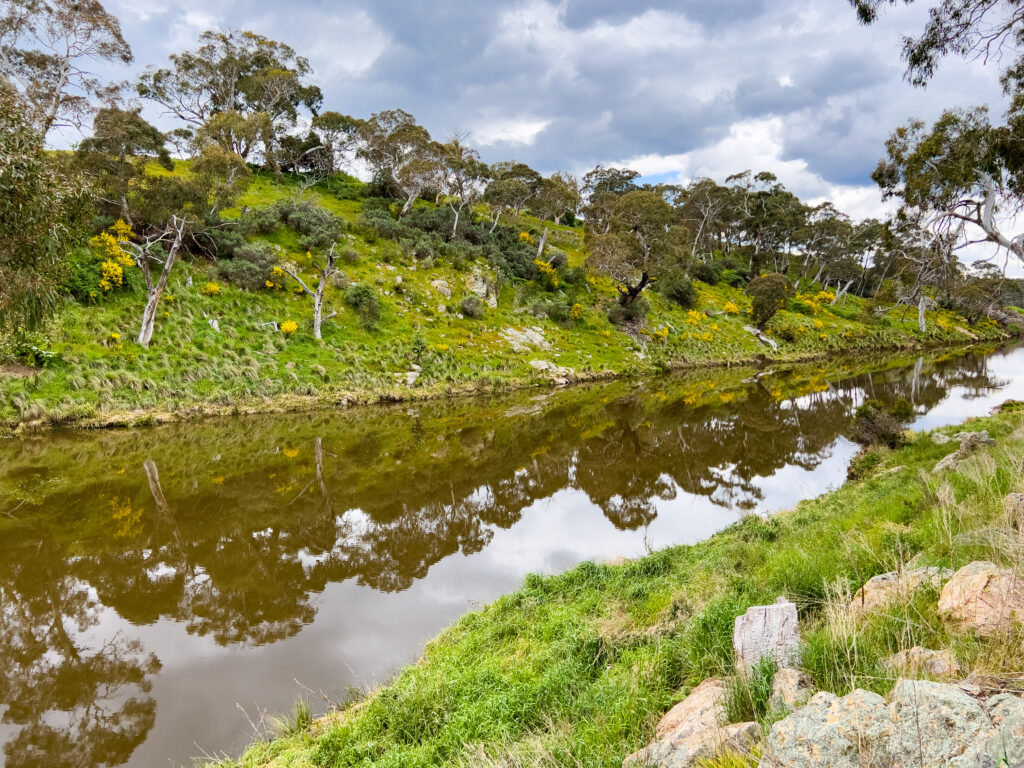 I was suspect of 'platypus country' thinking it was perhaps a tourist trap. It is not false advertisement.